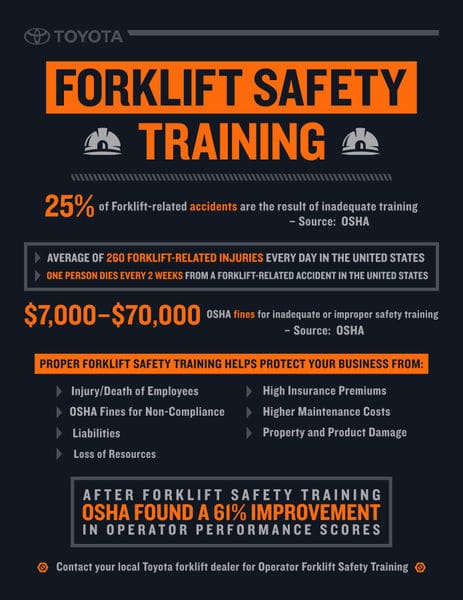 OPERATOR TRAINING
Forklift Certification & Train the Trainer Programs
---
OSHA 29 CFR 1910.178(I) requires that employers provide their forklift operators training.  Operators of powered industrial trucks must be fully trained and employer certified as required by federal regulation. As part of the regulation, lift truck operators are required to complete theory (online or classroom) training, practical hands-on training and be evaluated.  Additionally, operators must be over 18 years of age and be recertified at least once every three years.
Employers like yourself need an effective and comprehensive training program to meet this OSHA regulation and Lift Truck Center Trainers can help. Lift Truck Center trainers can design and facilitate a training program for your operators, or prepare you to facilitate the training yourself.
In addition to our LTC instructor facilitated Forklift Theory Operator classroom training, Lift Truck Center is pleased to offer several online certification courses that allow you to schedule training at your convenience. The online training is available in multiple languages and provides training consistency throughout all your locations. In addition to the Forklift Theory training, Train the Trainer and Pedestrian Safety Awareness courses are also available online.  Lift Truck Center representatives are still available to perform the practical (hands on) training and evaluation for your operators.
We also have telemetry devices that can help you manage your operator training, restrict operator access to specific equipment, improve impact management accountability, and electronically conduct and store your pre-shift operational equipment inspections.
OSHA Forklift Training Requirements
Proper Maintenance: To keep equipment in safe operating condition, it is important to establish a professional planned maintenance program for your equipment.
Pre-Operational Forklift Inspection Checklist: OSHA requires that all forklift operators adhere to a pre-operational equipment inspection before they begin each shift.
OSHA Forklift Training Requirements
Keep your operators safe: Operating a forklift might seem easy, but it isn't. Investing a little bit of time training your operators can prevent injuries and reduce equipment maintenance expenses.
Keep your pedestrians safe: When you train your forklift operators, you aren't just keeping the operator safe, you're keeping the pedestrians in your work environment safe too. Walking through a work area can be extremely dangerous if the forklift operators haven't been trained.
Please review our article posted on April 17th, 2019 entitled "Lift Truck Operator Training and Doughnuts, the Perfect Blend" located in the News/Products & Tips section of our site. To schedule or learn more about operator training, please contact your Lift Truck Center Customer Service Sales Representative.