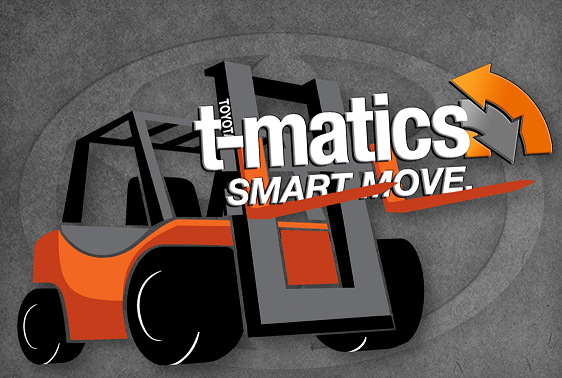 Tips for Managing your Lift Truck Fleet Operating Costs 3
This is our final segment in our series on "tips for managing your lift truck fleet". Technology is becoming a driving force in modern material handling as it helps us become more effective and efficient in moving and storing products. When we begin to look behind the curtain of the technology, what it comes down to is looking at the "Data" and making decisions and predictions on best practices. Many facilities are using a Supply Chain Management System (SCMS). The SCMS uses data for planning multiple different facets of a business such as supply and demand.
Traditionally this data has been crucial to create policies and practices that help a business run smoothly. In recent years we have been able to collect and track data on multiple areas of the business, but by using telemetry we are now able to also track data on the equipment handling the material. Telemetry is defined as "The process of recording and transmitting the readings of an instrument". Simply put, a monitor is added to a piece of equipment that will track key pieces of information.
Toyota T-Matics is a Vehicle Management System (VMS) that uses telemetry to collect the data on the equipment and then transmits it to software where it can be processed. T-Matics has the power and capability to:
Assign and know who is operating equipment:
This gives operators a sense of ownership to that piece of equipment when they know they are tied to it.
Manage operator credentials and certifications:
When an operator's credentials are set to expire the system will notify you of when they will need to be re-certified.
Paperless safety checklists:
Get away from tracking paper safety checklists; an operator can do a digital checklist on the unit and have the results immediately saved to the software. This removes the physical storage and tracking of these checklists. Each unit can be programmed so the equipment will not run without this process being completed at the desired intervals.
Track utilization:
Whether it be one unit or the entire fleet, you can review hours of run time to find if there are too few or too many pieces of equipment.
Impact Detection:
The impact sensor can detect when an impact occurred and who was logged into the equipment when it happened. This removes the guesswork of trying to isolate when the unit was in an impact and whether additional training is needed.
Automated reporting:
Have customized reports generated and automatically sent to you at a predetermined frequency.
Versatility:
T-Matics can be used on any material handling equipment.
Toyota T-Matics gives us a user-friendly way to track and collect data on how equipment at your facility is being used. In a day and age where data is invaluable to operations and safety how can you afford not to know how your equipment is being handled?
For more information please reach out to Lift Truck Center or your local Toyota Material Handling Dealer for an on-site evaluation and consultation to see if Toyota T-Matics is the right fit for you.