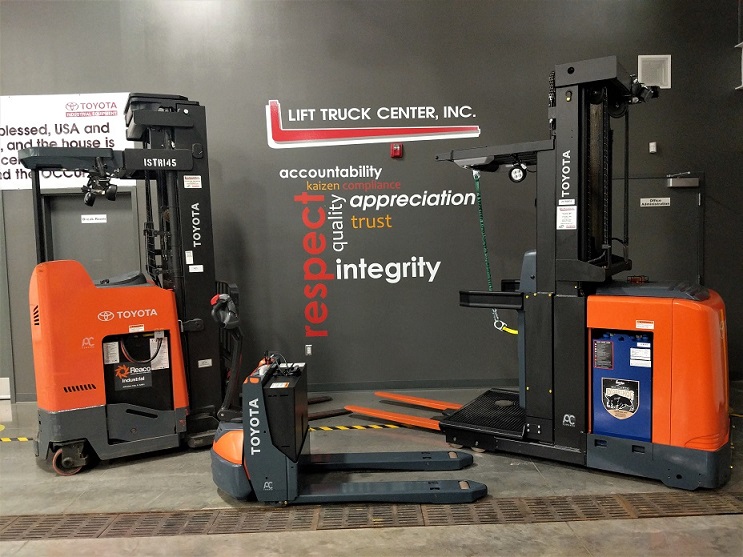 Tips for Managing your Truck Fleet Operating Costs-1
How can I more effectively manage my lift truck, handling and overall operating costs? This is a question often asked by Equipment Fleet Managers, Operation Managers, as well as small fleet users of lift trucks. Effective Fleet Management is founded on the Kaizen principles of continuous improvement. There are a wide range of answers depending on your fleet size, budget and your availability of time to invest in seeking solutions. The following is Part 1 in a series of practical solutions that we hope you find informative, ultimately leading to better decision making and resulting in reduced operating costs.
Manage the life of the asset. Develop and keep an updated equipment list by make, model and s/n (along with any asset, department or unit numbers assigned by your company).
o Know the age and dates of warranty coverage for each piece of equipment in your fleet
o Identify batteries, chargers and specialized attachments separately from trucks
o Identify if the equipment is owned or leased
Regardless of acquisition type, establish an economic planned replacement schedule. Monitor and adjust this plan based on actual usage and cost per hour of operation.
Know applicable lease maturity dates and maximum number of hours allowed before overtime usage rates are assessed.
Understand your end of lease options and condition return expectations.
A common tendency is overestimating the number of lift trucks needed, and the number of hours each operate. Equipment usage and environment is what should drive the frequency of scheduled maintenance. Overestimating usage leads to unnecessary maintenance costs and underutilized fleets. Tracking the hours of use will help you determine optimal maintenance intervals. Understanding utilization also helps you determine if you have too many lift trucks and identify high usage trucks that should be periodically rotated with other like models to balance out hours of operation and level out maintenance costs. Maintaining brand, model and specification consistencies (as much as possible) will make the rotation of units within your facility easier (and met with less resistance from your operators).
Aside from equipment brands, recognize that different types of lift trucks (and those equipped with front end attachments or operated in harsh environmental conditions) cost more per hour to operate and often require different maintenance intervals. Ensure that you know if the models you are operating require planned maintenance every 250 or 500 operating hours. It's also important that you understand the differences in "key on" vs. "travel" or "hydraulic" hours as you're planning your maintenance intervals.
Determine how you are going to consistently track your maintenance expenses. Do you want to separate avoidable damage repairs and/or planned maintenance costs from normal repair expenses? For electric fleet users, you will want to track maintenance on battery and chargers separately from the lift truck. If you have a diverse fleet of equipment specifications (i.e. some like model trucks are equipped with specialized attachments while others are equipped with basic sideshifters and forks), you might also consider tracking maintenance associated with the attachment separately. Review your maintenance work order details closely to identify repetitious repairs. Once repeat repairs are identified, it's time to put on your detective hat and look for the root cause and solution. These solutions will lead you to significant costs savings.
Consider full maintenance plans that provide consistent monthly expenses over the duration of the term. These plans remove considerable soft costs from your operation (by reducing your administrative time associated with managing the equipment, and reducing the number of invoices and overall accounting related expenses associated with each payable) and allow you to budget your operating expense without unexpected spikes.
Strive to develop a loyal relationship with a trustworthy lift truck dealership. Reputable lift truck dealers serve as an experienced resource to help you make the best decisions for your company. Please contact your Lift Truck Center Customer Service Representative or our Corporate Service Manager by phone or email with questions or comments. Be sure to check back for additional tips in the weeks ahead.